$3,172
$1,903
& FREE Shipping
Create cherished childhood memories with our Cape Cod Playhouse! Featuring traditional dormers that bring great architectural appeal, this playhouse offers a world of endless fun and excitement. Let your children's imagination soar as they create unforgettable moments in this play space.
Made in the USA with Amish craftsmanship
Ships in 5-7 days
Free liftgate delivery. Learn more.
Hardware and instruction manual included
Note: Customer provides shingles, drip-edge, & paint
Standard Features:
High quality 7/16" LP® SmartSide® siding with grooves 4" on-center primed and ready to paint
2"x3" wall studs 24" on-center (2"x4" on 10'x12' units)
7/16" OSB roof sheeting
Both child and adult doors (see dimensions table for sizing)
(2) working 14"x21" windows with tempered glass and screens
(2) dormers on 4'x6', 6'x'8', & 8'x8' units
(3) dormers on 8'x10', 8'x12', & 10'x12' units
(2) flower boxes
(1) chimney
DIY Floor Kit:
5/8" plywood flooring
Treated sub-floor framing
Note: When adding the deck and rail option, the customer must supply 4"x4" treated runners underneath the playhouse. On 10'x12' units, 4"x4" treated runners are included with the DIY floor kit option
Delivery & Assembly
Liftgate Delivery
Note: For residential deliveries, the customer will be notified with a phone call from the shipping company before the kit is delivered to them
Idea of what the kit will look like before shipping from our warehouse for delivery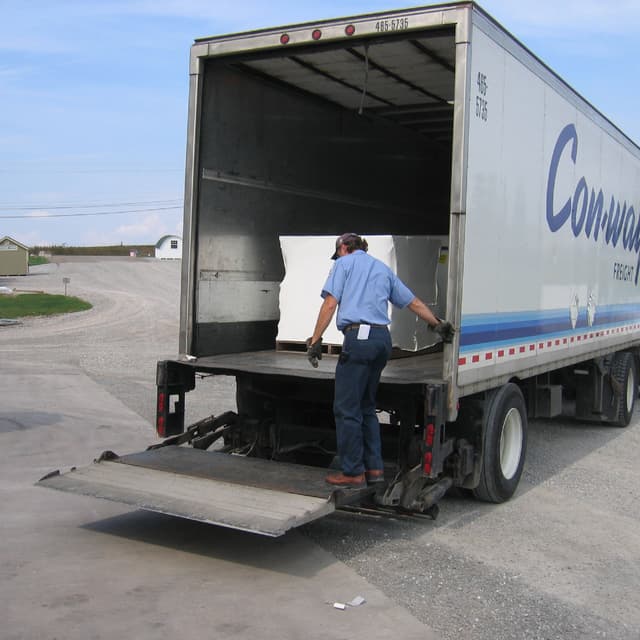 Truck will arrive at delivery address
Pallet will then be placed onto a liftgate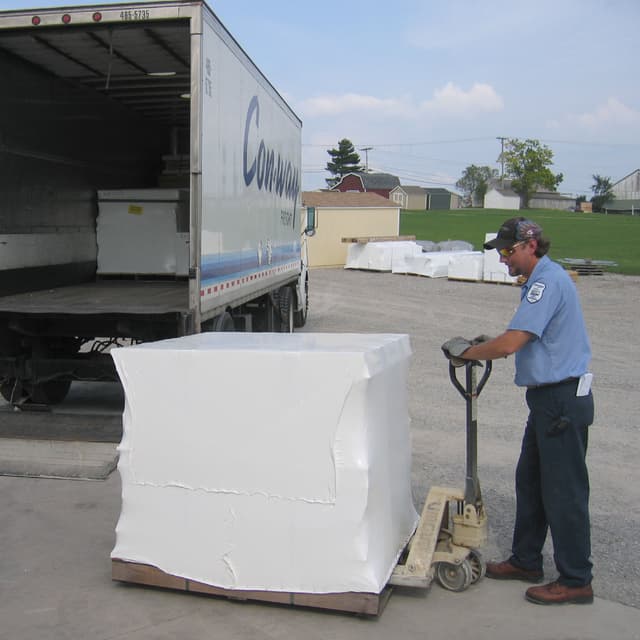 Kit will be placed curbside or at the end of the driveway
Assembly
Our DIY playhouse kits can be built by DIY handyman and parents alike! In addition to saving on your shipping costs (compared to a pre-built playhouse), our pre-cut, pre-primed, ready-to-assemble kits make it easy to build a memory for your child that will last a lifetime. We have had people tell us how excited the kids were when the parents were assembling the playhouse kit. The kids get to see their parents creating and building, leaving a lasting memory for the child!
When your DIY panelized kit arrives there will be an envelope inside containing layouts and an instruction manual for your specific product. Assembly time will take 2 adults approximately 4-8 hours, depending on the size of the playhouse and skill level. Sara's Victorian Mansion kits will take longer. With the exception of the roof, the kit comes with panels which are alphabetized for easy assembly. All you need to do is fasten the panels with screws!
IMPORTANT: The below is only a SAMPLE of the instruction manual.
Step 1: Floor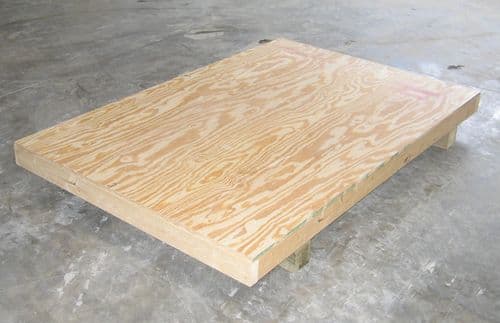 Purchase an optional floor kit from Little Cottage Co. or purchase supplies from your local home improvement store.
Step 2: Walls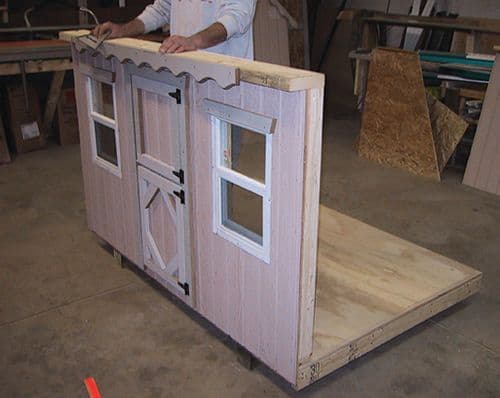 Install the pre-made, alphabetized panels.
Step 3: Trim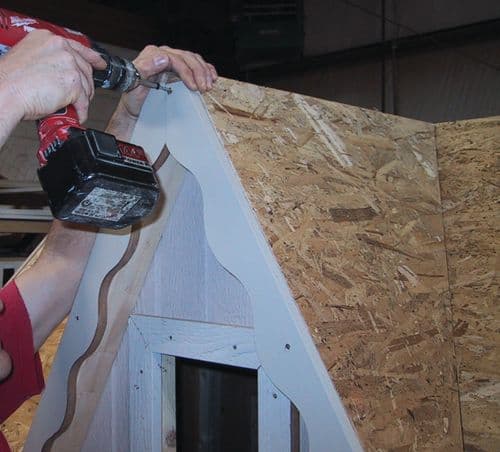 Install the pre-fastened trim included in your playhouse kit.
Step 4: Roof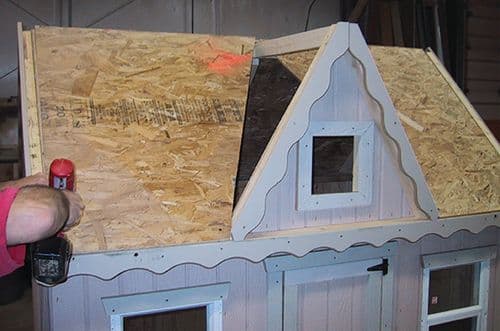 Next, install the pre-cut trusses and pre-cut sheeting that make up the roof.
Step 5: Shingles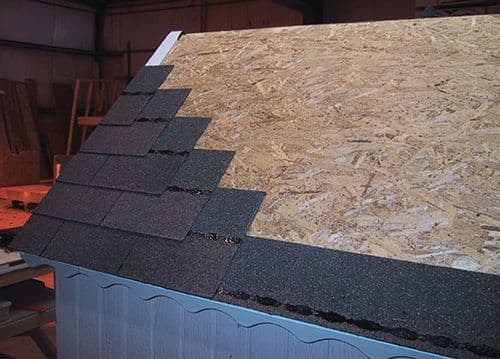 Install drip edge and roof shingles (not included, available at local hardware store).
Step 6: Dressings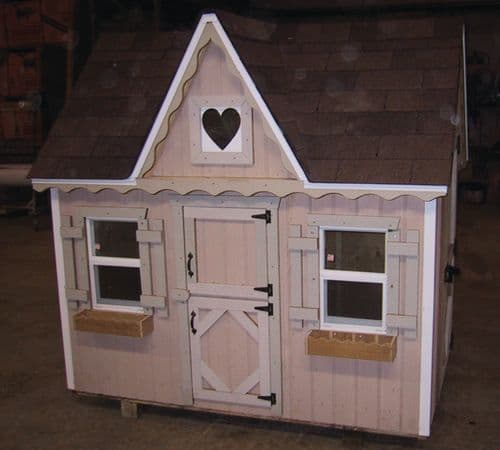 Install shutters and flower boxes (included in kit).
Step 7: Porch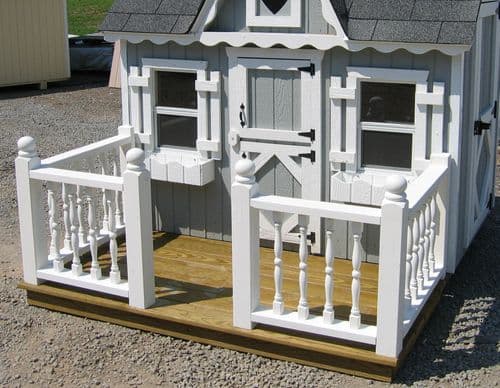 Install the optional porch, if purchased with your kit.
Step 8: Paint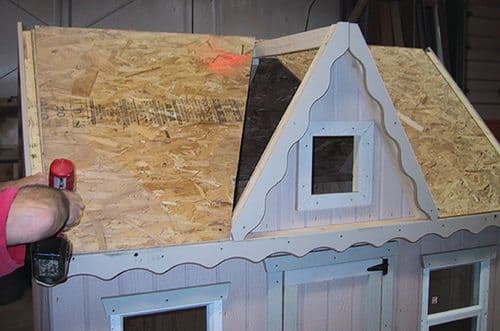 Your playhouse is primed and ready for paint (paint not included).
Why Choose Little Cottage Co.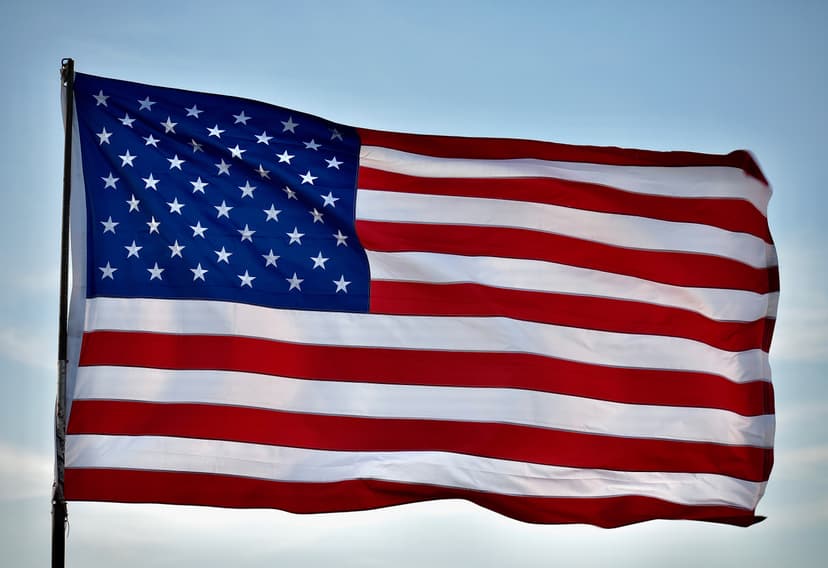 Quality. Amish Made in the USA.
Our experienced carpenters and skilled designers take great pride in creating top-quality products, and provide you with a product that will serve your needs and wants for years to come.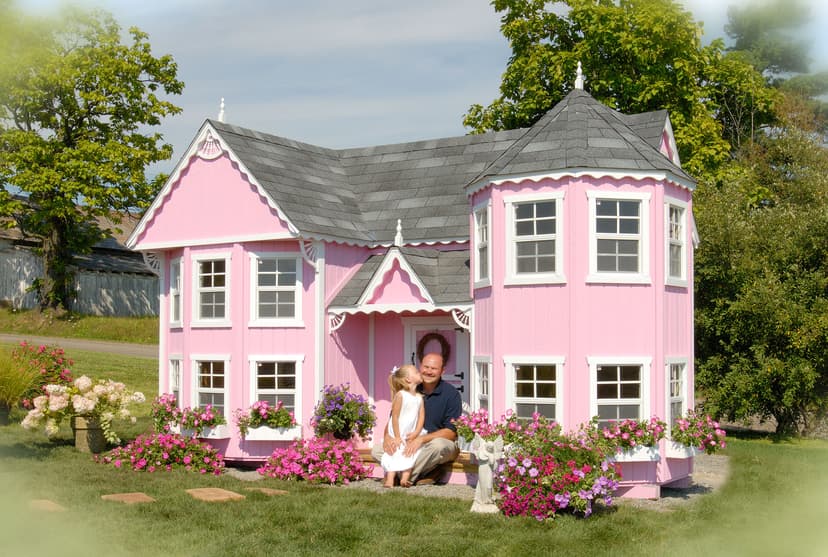 Family Owned
Little Cottage Company® was started in 1999, by Dan Schlabach, a father who enjoys putting smiles on his children's faces. "There is something special about a child's smile. So special in fact, that several years ago, those very smiles changed my life when I started using my talent for woodworking to build playhouses."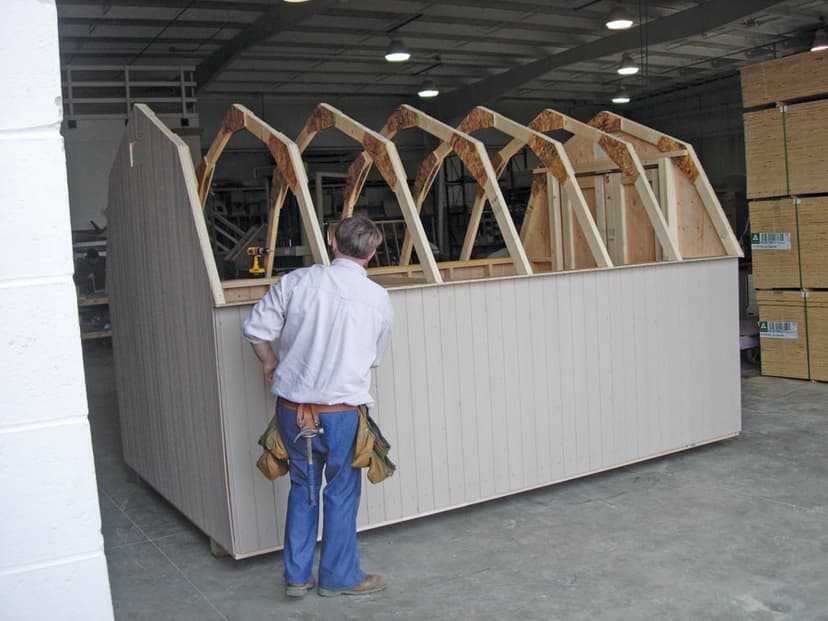 Service
Customer service is especially important to our company. We want to make sure that you are 100% pleased with your purchase. We make every effort to provide you with what you need and want.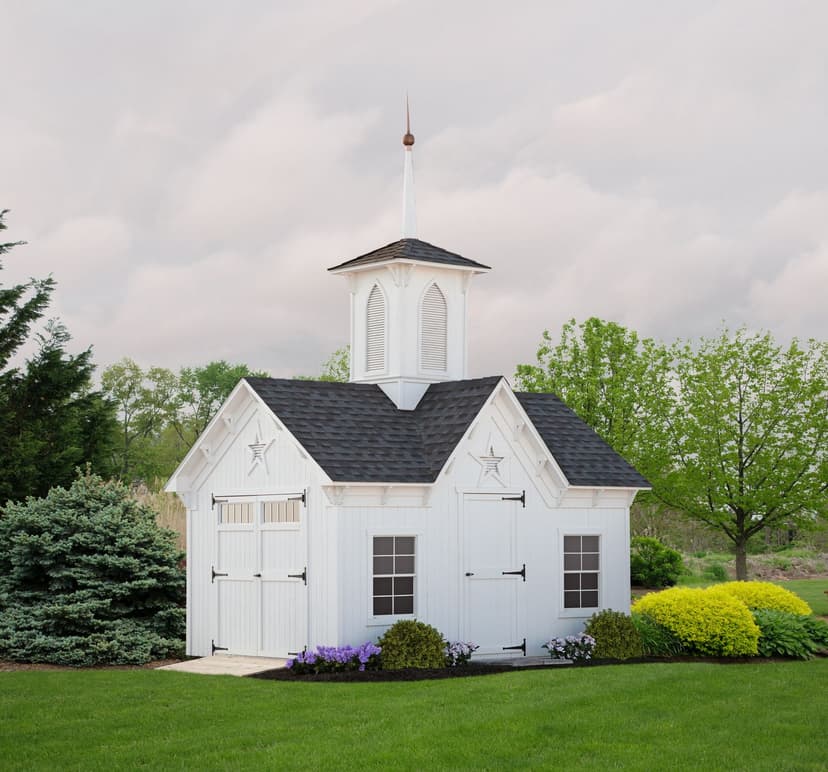 Innovative Products
Our company is always working on new ways to serve your needs. Whether we are designing a new product, searching for top quality raw materials, or developing a new product, we are always looking to better ourselves for you.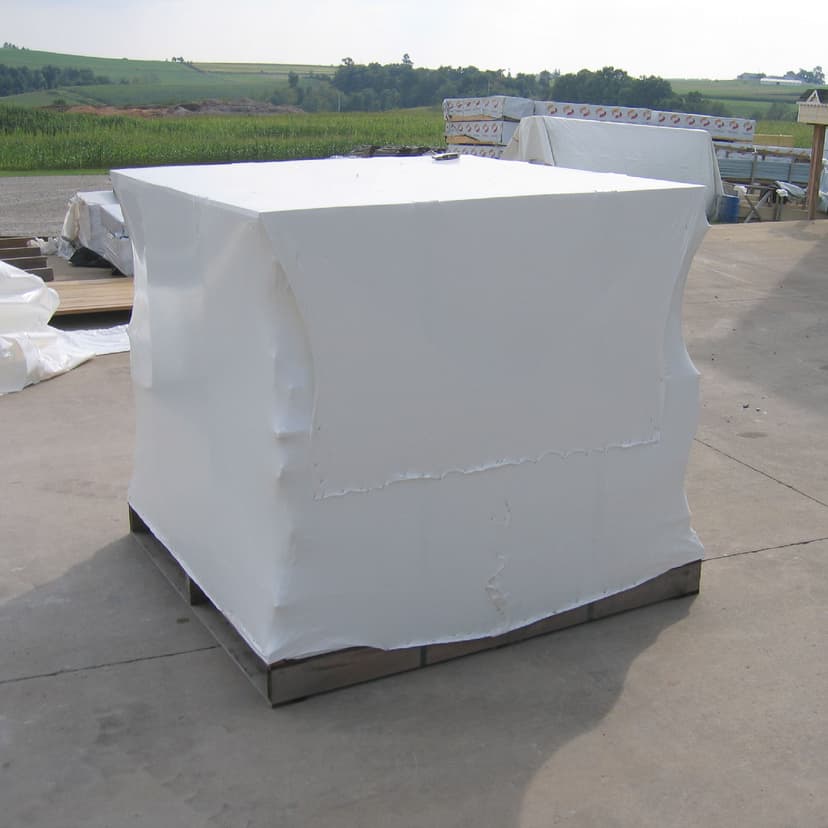 Easy DIY Kits
Little Cottage Company® has designed easy-to-construct Panelized Kits and Precut Kits. Panelized Kits come with pre-assembled walls and Precut Kits are precut, primed, labeled and ready for paint. You will only need basic carpentry skills and a few basic tools. Both styles are primed and ready to paint, the customer will provide shingles, drip edge and paint. Our kits have been successfully assembled by people all over the world.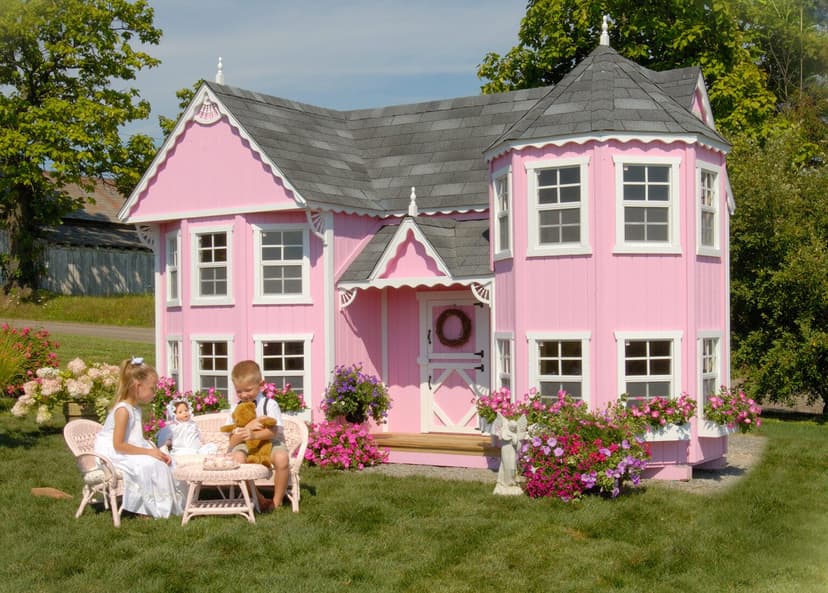 Memories
Build a lifetime of memories. Whether you purchase a playhouse for your children or a garden shed for your hobby, you will enjoy a lifetime of memories.
Recent reviews
J.Y.
J Y
3 out of 5 stars
2 months ago
Good Concept, Mediocre Quality
Overall, the playhouse is a good design and is functional and my girls love it. Structurally, I believe it could have been better in the material used and its prefabrication. For example, the floor kit is made with UNTREATED wood. Doesn't make sense to use untreated lumber in a section of the house that will get wet regularly and be exposed to insects the most. I had to purchase 4x4's and concrete blocks to raise it off the ground and I painted it to provide additional protection. Also, the plywood was stapled instead of nailed and only had (3) 2x4s as braces. The floor was pretty flimsy. In addition, the floor kit wasn't square, it was off by a full 3/4 inch because the plywood was cut wrong which meant we had to cut what we could and be super careful how we put the walls up to make sure that it was square enough for the roof. I think for a price tag of over $3,000, treated lumber and 2x4s all around would have made it not only more durable but a much better value ( and really not that much added cost to you which you or the consumer).